Grilling delicious pork chops on your George Foreman Grill is easy. They are naturally full of flavor yet cook in just minutes and require very minimal preparation. Pork chops are very versatile since there are many ways to prepare and cook it. And once you put it on the George Foreman Grill you can actually make restaurant quality grilled pork chops with very little expertise.
How to Make George Foreman Grill Pork Chops
For grill pork chops, I recommend using center-cut boneless chops (although it can be boned as well), 1/2″ to 3/4″ thick, to produce the best results. It's also important to preheat your Grill (up to maximum temperature) as it sears in the flavors.
Here's a quick, easy and unbelievably delicious pork chops recipe that you can make right on your George Foreman Grill.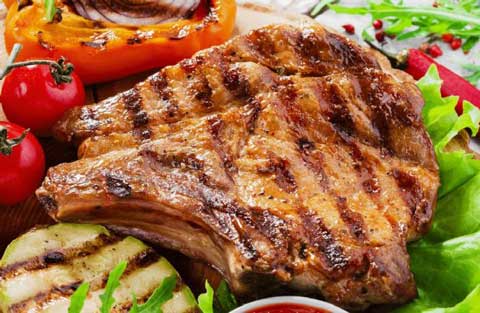 Ingredients
2 boneless center-cut pork chops (1/2″ – 3/4″ thick)
Fresh ground pepper and salt to taste
1 teaspoon of olive oil
1 teaspoon of condiment
Directions
Step 1
Preheat your George Foreman Grill for at least 5-7 minutes on high with the lid closed.
Step 2
Brush pork chops with olive oil.
Step 3
Use a plate and pour 1 teaspoon of condiment on the plate.
Step 4
Dip the pork chops in the condiment and make sure to get both sides wet.
Step 5
Add more seasonings of your choice such as salt and pepper.
Step 6
Grill pork chops for 7-8 minutes (with an optimal internal temperature of 145F/63C). When done, they should be slightly pink in the center.
Make sure to flip the pork chops around the 4-minute mark so they are well done on both sides.
Enjoy your freshly grilled pork chops! You can add side dishes such as rice and fresh vegetables.
Summary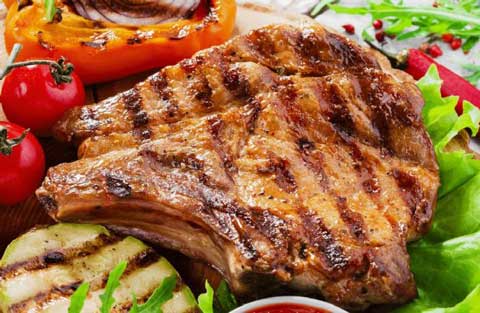 Recipe Name
George Foreman Grill Pork Chops Recipe
Author Name
Published On
Preparation Time
Cook Time
Total Time
Average Rating
Based on 3 Review(s)