A T-bone steak is a cut of beef from the short loin. It's called a T-bone steak because it's a T-shaped bone with meat on each side. T-bone steaks come from the most succulent sections of meat on a cow, which is why they very popular among steak lovers. Today I will share one of the best George Foreman Grilled T-bone steak recipes which will surely make your mouth water.

How to Make George Foreman Grilled T-Bone Steak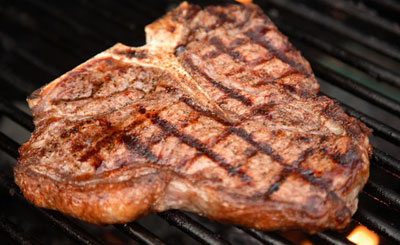 Ingredients
1 t-bone steak of approximately 3/4″ thick
1/4 teaspoon kosher salt
1 tablespoon red wine vinegar
1 tablespoon olive oil
1/2 teaspoon fresh ground pepper
1 clove garlic
1/2 teaspoon liquid smoke
Directions
Step 1
Beat the meat with a tenderizer or pierce with a fork several times.
Step 2
Add olive oil, vinegar, liquid smoke, salt, and pepper to a ziplock bag and add the steak. Make sure steak is well coated and let marinate in the fridge for at least 30 minutes.
Step 3
Preheat your George Foreman Grill for at least 5 minutes with the lid closed. Use a high setting if your grill has it.
Step 4
Slice garlic into thin pieces and using a sharp knife, make several small holes in the steak and place the garlic into the holes. About 8 per side will do.
Step 5
Place on grill and close the lid. After about 4 minutes check it and if desired, rotate 1/4 turn. Grill 3-4 minutes for rare; 4-5 minutes for medium rare; 5-6 for medium; 6+ for well done.
Summary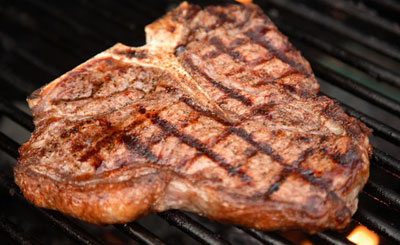 Recipe Name
George Foreman Grilled T-Bone Steak Recipe
Author Name
Published On
Preparation Time
Cook Time
Total Time
Average Rating
Based on 1 Review(s)