A Skirt steak is a cut of beef from the plate. It's not tender like a T-bone steak but popular among steak lovers for its flavor. When you put this long and flat steak on your George Foreman grill and add some Fiesta Corn Salsa with it, this can turn out to be just the perfect lunch/dinner for you. So without further ado, let's take a look at this delicious George Foreman Grilled Skirt Steak with Fiesta Corn Salsa recipe.

How to Make George Foreman Grilled Skirt Steak with Fiesta Corn Salsa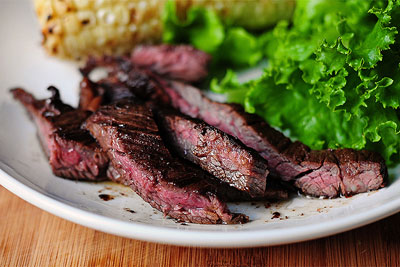 Ingredients
1 pound skirt steak
1/2 teaspoon Worcestershire sauce
1/2 teaspoon fresh ground black pepper
1/8 teaspoon kosher salt
Corn Salsa
1 15.25oz can drained sweet corn
1/4 cup tablespoon chopped red onion
1/4 cup of chopped green and red peppers
1 tablespoon fresh chopped cilantro
1 clove crushed garlic
Juice from 1 lime
Directions
Step 1
Combine steak, Worcestershire sauce, pepper and salt let marinate for at least 15 minutes. If you can let it go for a couple of hours or even overnight – all the better, but 15 minutes will work just fine if need be.
Step 2
While steak is marinating, in a large bowl combine corn, chopped onion, cilantro, garlic, peppers and lime juice and mix well. Some chopped jalapeno pepper will have some heat if desired.
Step 3
Preheat your George Foreman Grill for at least 5 minutes with the lid closed. Use a high setting if your grill has it.
Step 4
Grill the steak for about 3-4 minutes depending on thickness for medium-rare doneness. 4-5 minutes for medium, 5-6 minutes for well done.
Step 5
Remove from grill and let the steak rest on a plate for approximately 5 minutes. Serve with fresh corn salsa generously topping the steak. You can also place the salsa and cooked steak in a container and serve cold over a fresh salad.
Summary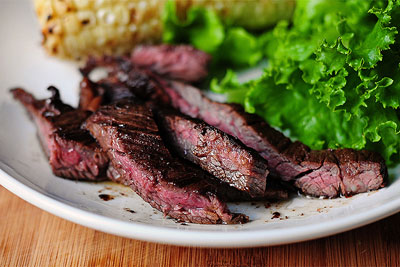 Recipe Name
George Foreman Grilled Skirt Steak with Fiesta Corn Salsa Recipe
Author Name
Published On
Preparation Time
Cook Time
Total Time
Average Rating
Based on 3 Review(s)